At our Sales office we distribute for the Government of Jamaica all the Laws of Jamaica including the revised sections.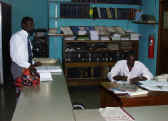 Our very competent Sales Team are always willing to assist you, if we don't have it, we will print it for you.
Printed Legislative Enactments and others.
Samples of some of the documents we print.